This site uses cookies. By continuing to use this site, you are agreeing to our use of cookies.

Learn More.
Pokémon Trainer
Registration for the "2015 International Challenge June" Competition begins Thursday, June 18, 2015, at 00:00 UTC through Thursday, June 25, 2015, at 23:59 UTC.
The top players in each age division (based on Play! Pokémon regulations) will receive...
The official website announced a new distribution to celebrate the opening of the new Pokémon Center in Hiroshima: Magikarp and a Shiny Gyarados distribution will run from June 26, 2015 to August 31, 2015 for Pokémon X, Y, Omega Ruby and Alpha...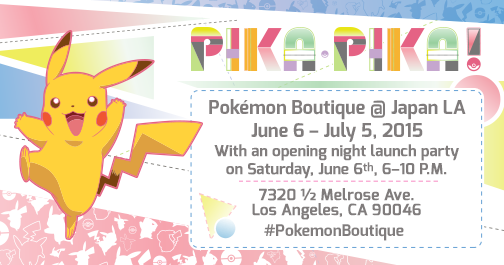 The
official website
announced that a Pokémon Boutique is coming, for a limited-time, to Los Angeles nest month.
The boutique will be placed at the...
The
official website of TvTokyo
announced a new special (separated into four episodes) airing June 18, 2015.
The special features a story where Ash's Pikachu is a star in a...
The
official website
announced a new Pokémon game: Pokémon Super Mystery Dungeon (ポケモン超不思議のダンジョン)!
The game will release on Nintendo 3DS in Autumn 2015 in...
The
official website
announced that Pokémon Omega Ruby & Pokémon Alpha Sapphire: The Official National Pokédex is now available as an iBook in the iTunes Store.
This book...
Copyright
Pokémon Trainer is a fansite. You may not use or redistribute any content on this site without proper permisson from the site owner. All characters, trademarks, and properties are © their respective owners. This website is not affiliated with Game Freak, The Pokemon Company International, or Nintendo. The website is not intended to breach or infringe on copyright.